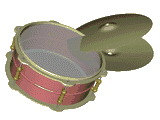 I should've told you that this is a drum lesson, not just a lesson. Sorry, but I think it still could be your interest, no?
Drum, percussion, rhythm as a basic of all music in world. Before music, there was rhythm - stop, this topic is too large for me - so lets just talk about drum set, or say jazz drum set. Here :
Very Beginner, I will try to explain about drumset and the basic concept of it. Also note value and simple notation.
Beginner, here I'll show you the basic reading of drumset notation, and some simple excercises. (still under construction, sorry)
intermediate to advance, I have 80 rudiments, and my Independence excercises on the set.
Have fun, I hope this helps you something...